I could have written so much more, but i'm 100 words over the limit already. Just go watch it, you'll love it, i promise.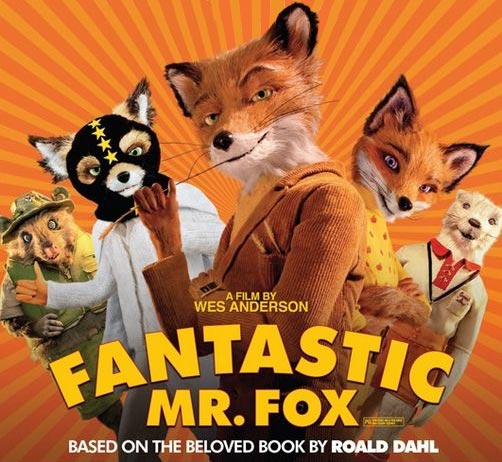 Fantastic Mr Fox
People who haven't seen this film have issues with it. I've been looking forward to it for months, but it seems like every time I bring it up someone pipes up with a contrary opinion. True, the voices are American, the directors and writers and producers are American, only the bad guys have English accents, but really, are we so closed minded as to reject a film based on the fact that it's an American adaptation of a British story?
True, Wes Anderson is American, but so what? Fantastic Mr Fox was the first book he ever bought, he begged for the rights to it over 10 years ago, he gained the approval of Roald Dahl's wife, and he lived in Dahl's house whilst writing the screenplay, all of the sets and props in Fox's home are exact replicas of the furniture in Gypsy house. What more do people want? Yes the story is fleshed out, but it is a short story. As Dahl's wife puts it, "it had to be embroidered." Anderson and Noah Baumbach retain the core of the story, stating that they "wanted to write a Roald Dahl movie," rather than just taking the story and running away with it.
The story follows Mr Fox (Clooney), his wife (Streep) and his teenage son, Ash (Schwartzman) as they move to a new tree near the farms of Boggis, Bunce and Bean, the three meanest farmers in the world. Mr Fox has given up his bird thieving ways to become a newspaper man, but the proximity to the farms proves too tempting to resist, and he's soon back to his old ways. What follows is a kind of Ocean's Eleven meets The Animals of Farthing Wood, but far more whimsical.
The stop-motion animation in the film is wonderful, lending the film a handmade, old fashioned quality. It isn't slick, but it's not supposed to be. Seeing the workings behind it, looking out for the imperfections, is what makes the whole film work. It's not perfect, but it is created out of love, its flaws are what make it special, a theme reflected through the story and the characters.
What I love about the film is that it is still so obviously a Wes Anderson movie. The direction and the storytelling hasn't changed to fit the animated genre, he adapted the genre to perfectly fit his own directorial style. The dysfunctional family dynamic recognizable in all of Anderson's films is still there, as is the trademark shot composition and the hilarious deadpan dialogue. If anything it works better animated than it does in live action.
A fantastic vocal cast, stunning visuals, hilarious dialogue, and genuinely captivating set pieces, could you really ask for anything more from an adaptation of one of the most popular children's stories of all time? This is an adaptation for people who grew up with the story, it's a kids film for adults, and i urge everyone to go see it right away.